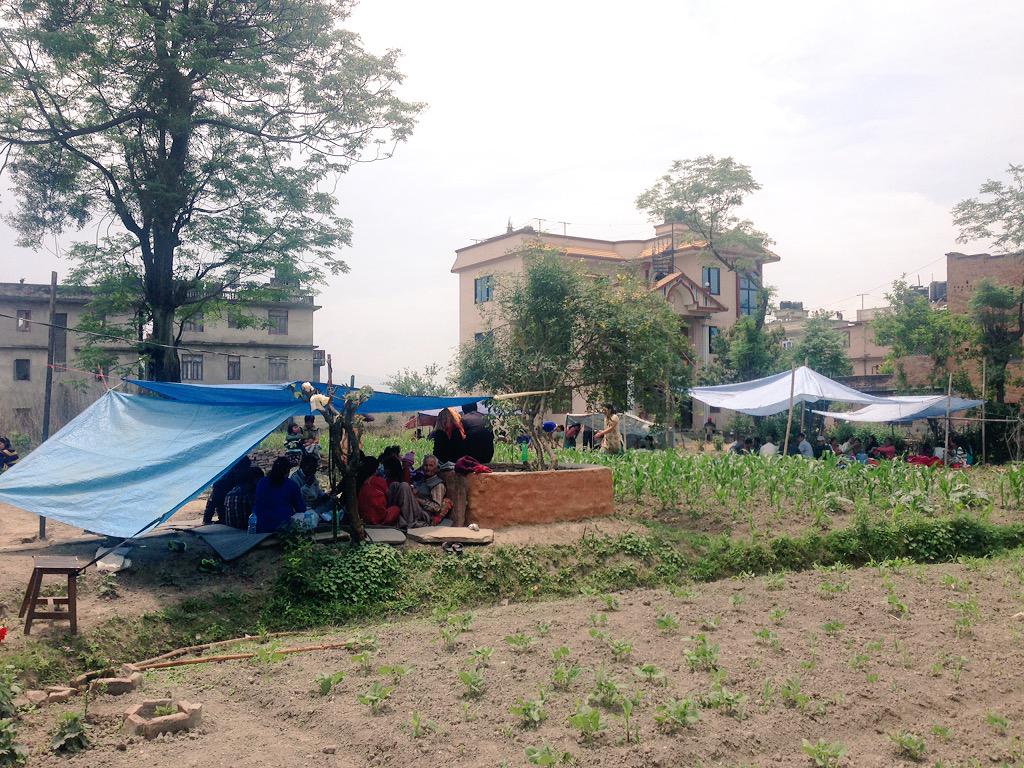 The internet is awash with tallies of those killed and injured during the earthquake in Nepal. It is also inundated with appeals for online donations from individuals and local and global humanitarian organizations. However, there is very little information for earthquake victims in Nepal about how to get immediate assistance.
Due to continuing aftershocks, most people are staying outside in open fields and are too scared to go inside their homes. The most recent aftershock recorded 6.7 on the Richter scale. The rain has added to the woes of Nepalese people staying outside in open spaces. Some of them are staying under makeshift tarp tents and many of them are still looking for tents to keep their family dry and safe. Sadly, major news media sources and humanitarian organizations have not issued any public broadcasts about how victims can immediate help.
Despite lack of electricity and reliable telecommunications, some people in Nepal have issued requests for tents through social media such as Twitter and Facebook. All local, national and global humanitarian organizations need to coordinate their efforts and ensure they can be reached for help. It is extremely important that first responders can reach those without food, water and shelter to prevent panic and further suffering. We know all too well from Katrina and earthquake in Haiti how important it is to provide essential items immediately to affected ones to prevent a post-disaster catastrophe.
I gathered contact information of many notable organizations being endorsed by CNN, Mashable, New York Times and others that have issued calls for donations. I hope this can be shared widely among organizations for coordination and made available to those in Nepal who need help.
What Victims Need
Public broadcasts from national and humanitarian organizations with a number to call or information about areas around town(s) where Nepalese people can get help from.
How to Get Help
Call the contact phone numbers in Nepal listed below using regular telecommunications or Viber Out. Telecommunication lines have been disrupted following the earthquake so, viber may be an option for those with a smartphone and 3G connection. Viber has announced that users in Nepal can call any phone number using Viber Out for free.
Emergency Phone Numbers For Ambulance Service
Kathmandu (Bishal Bazaar): +977-1-4244121
Hetauda: +977-1-9855071063
Kathmandu (Red Cross): +977-1-4228094
Pokhara: +977-061-530200
Contact Info for Humanitarian Organizations
Here's a quick table on Google spreadsheet that my friend Paurakh and I created – Contact Information for Humanitarian Organizations This has organizations, their phone numbers and addresses. For more details, see below.
1. Nepal Red Cross Society in Kathmandu
Red Cross Marg, Kalimati Post Box No. 217, Kathmandu, Nepal
Phone: +977-1-4270650, 4272761
Fax: +977-1-4271915, 4273285.
E-mail: nrcs@nrcs.org
Mark South, British Red Cross delegate – +9779813102044
Email: Msouth@redcross.org.uk Twitter: @78Southy
Helen Brown, British Red Cross country manager : +9779813101434
2. Oxfam Nepal
Jawalakhel-20, Lalitpur
Kathmandu, Nepal
GPO Box 2500
+977 1 553-0574
+977 1 554-2881
+977 1 554-4308
Tel: + (977) 1 55 22 800 or 1 55 22 143
Email: carenepal@np.care.org
www.carenepal.org
Save The Children Nepal
Nepal Country Office
Airport Gate Area, Shambhu Marg
Kathmandu, Nepal
GPO Box: 3394
Tel: +977-1-4468130/4464803
Fax: +977-1-4468132
Email: post.nepal@savethechildren.org
Save the Children, Nepal Country office has field offices in Biratnagar, Kathmandu, Butwal, Nepalgunj and Dhangadi.
5. Global Giving
They have received one of the largest sums of donation online (more than $400,000) for earthquake victims in Nepal. However, they have no local phone number or physical location in Nepal listed on their donation page that can be reached for help by victims. This is a shame.
6. Shikshya Foundation (endorsed by famous Nepali fashion designer Prabal Gurung)
Gyan Mandala, Jhamsikhel
Lalitpur P.O.Box 129 Nepal
E-mail: info@shikshyafoundationnepal.org
Telephone: 977-1-5522938
7. UNICEF Nepal
Regional Office Visitors' address
UNICEF
Regional Office for South Asia
Lekhnath Marg
Kathmandu, Nepal
Telephone
977-1-4417.082 – Switchboard
Email: rosa@unicef.org
Country Office Visitors' address
UNICEF
United Nations House
Harihar Bhawan, Pulchowk
Lalitpur, Nepal
Telephone
977-1-5523.200
Email: kathmandu@unicef.org
8. Catholic Relief Services via Caritas Nepal
Caritas Nepal
Dhobighat, Lalitpur
(near Assumption Catholic Church)
GPO. Box. 9571
Contact No: +977-1-5538172, 5539344
FAX: +977-1-5538484
Email: caritas@mail.com.np
Website: www.caritasnepal.org
Plan Nepal,
P.O. Box 8980,
Shreedurbar, Pulchwok,
Lalitpur, Nepal
Tel: +977 1 553 5580
Country office media contact
Journalists can obtain information about Plan in Nepal by getting in touch with Communications Manager Shreeram KC
Email: shreeram.kc@plan-international.org
Phone: +977 1 5535580 ext 111
Mobile: +977 15535580
Skype: shreeram.kc
Contact Info for National Organizations
1. Ministry of Health, Nepal
Several numbers of different offices and personnels are listed on the Contact Us page. This page is in Nepali but an English translation through Google translation is available here.
Health Services Division
Phone no. 425-4759, 426-2543 ext- 248
Email: cud@mohp.gov.np
Hon Works Minister Private Secretariat
Phone no. 426-2534, 426-2543 ext- 242
Email: ministerhp@mohp.gov.np
2. Department of Health Services, Nepal
Department of Health Services
Teku, Kathmandu
Telephone: 977-1- 4261712
Fax: 977-1- 4262038
Email: info@dohs.gov.np
Contact Info for Indian Nationals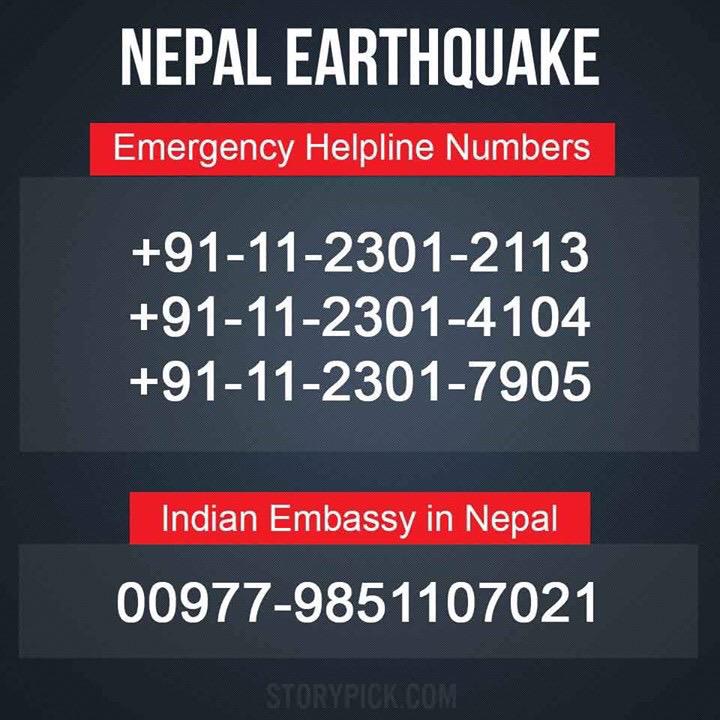 Indian embassy has listed emergency contact numbers for Indians affected by the earthquake in Nepal. Nepal needs to have something similar for people in Nepal.
More Resources:
1. Emergency Links – Some Nepalese students at Stanford, spearheaded by Dilliraj Paudel have created a Google spreadsheet that has a tab with links to emergency numbers and other helpful websites.
2. There is a Google spreadsheet for recording #NepalQuake Open Space Camps by US AID.
3. Here is a useful Google Maps with Icons to Find Shelters. This is also part of US AID project.
4. Media source IBN TV has an article with several emergency helpline numbers for Nepal quake
5. UN has published situation reports with several helpful updates about rescue efforts, availability of water, shelter and need for medical kits among others.
6. Humanity Road has published situation reports with lots of useful information about the earthquake, similar to the UN situation report mentioned above.
7. StandbyTaskForce has published situation reports about creating databases and mapping this information using volunteers.
8. Ushahidi has a post on how volunteers can support online response to the earthquake in Nepal
If you have additional information about how people in Nepal can contact humanitarian organizations for immediate assistance, please post in comment or email me to thedigitalsubway at gmail.com and I will include here.